Posts
Tuesday 28th of June 2016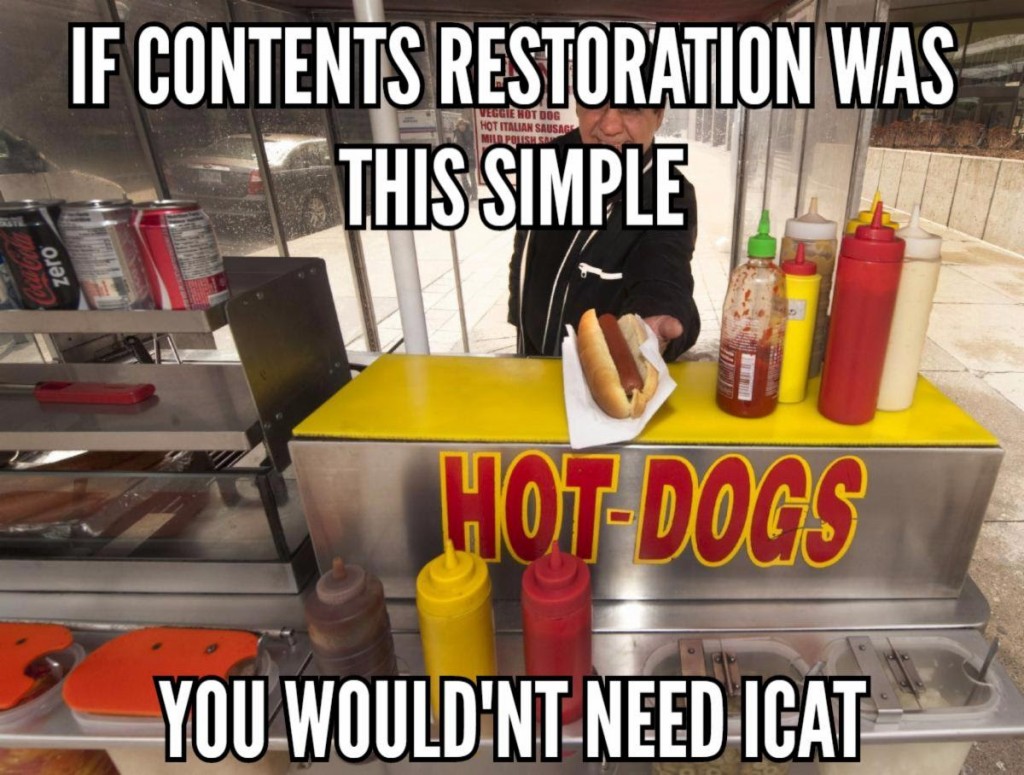 Contents Restoration is Complicated
But what makes contents restoration complicated? Is it the sheer volume of property contents which need to move through multiple moving facets of an operation, each laden with deep and delicate logistics? Is it that fact that the smallest of errors can impact the entire business and related organization? Is it that it is powered by humans, prone to honest errors? Is it because there are many connected parties, each with their own sets of demands and requirements? Is it because the physical logistics often never match the required logistics? Is it because an increase in volume takes an already complicated service to unmanageable heights?

Our competitors claim their software is simple.  Take it for face value: it is "simple".

Simple however does not work for the Industry's top producers and contents restoration facilities. They know what they want and why, because they understand the demands of Contents Restoration: the complicated minutia associated with contents processing and the steps required to actually deliver happy insureds is the reason why serious contractors choose iCat to power their modern contents technology infrastructure.
Friday 22nd of April 2016
iCat's  Fast CATALOG uses our image recognition process technology, allowing you to simply take a picture of the chair, desk, TV, Jeans, or the hundreds of other items you might need to catalog onsite. You can use this technology for both cleanable or non-salvage items, as iCat provides a perfect description — right down to the make, model and (in some cases) color. Talk about efficiency!  Use iCAT's Fast CATALOG Technology to reduce your time on site by as much as 50%.
The math here is easy — you can now packout twice the amount of contents than you could before. Thus, you can potentially take in twice as much in cleaning and restoration revenue. We call this "2x-ing" your contents business. Reduce the administrative burden of your best paid employees. Have more choice in who goes to the packout.  An excellent command of the english language is no longer a requirement. If they can take a picture – they can inventory!
Fact: Every contractor who has used this service has not stopped
"We have been using iCat's Fast CATALOG service since it was in Beta and still to this day we are truly amazed with the image recognition. We now have the ability to create non salvage inventories in 1/2 the time with NO administrative labor!"  Courtney Kipple, FRSTeam
"Your system is amazingly fast.  I sent THOUSANDS of items up and they were back in HOURS not days! I have been impressed with iCat since the start and now with Fast Catalog and Fast LKQ, I am even more. THANK YOU!"   Glenn Allison, Belfor
2X your contents revenue
iCAT's Fast CATALOG – Packout Redefined
Scan Barcode + Take Picture = Done
Friday 22nd of April 2016
A true understanding of a product offering in this space begs only three questions – especially for those now contemplating the introduction of a technology Infrastructure to help power their contents division – and specifically – which solution to choose.
The three most important questions any serious contents organization MUST ask/inquire/understand when choosing contents software.
"How much faster will this software make us?  How much more can we pack out & inventory with our current team?"
The first question – the most important question –  begs an understanding of the management of contents.  Specifically, that only one variable dictates first how much revenue a contractor can generate.  That variable is "how quickly can they packout and inventory contents?"
Its simple math really:  If you can condense your traditional 5 day packout into a 2 day or less packout, you now have an opportunity to packout 3 times as much.  You just took your company from 1 Million to 3 Million.   Contractors who understand, appreciate, and look for tools which solve this equation are serious about the business of contents and growing their business.  For them, the next two questions also apply.
"How does the software help the contractor grow and handle volume?"
When we move from famine to feast, and our business volume grows, what does the software or technology infrastructure provide to help manage each and every single claim – from tip to tail – without the contractor dropping the ball?    After all, as a contractor, we are here to generate revenue, profit and grow.  This question demands that the contractor look well past the packout portion of the technology.  Indeed, while it starts with the packout, it is what you can do with that packout data that is all important.  Many contractors at this stage in comparing software technology do not think to look inside the technology for available tools to handle serious volume – it's just not part of their shopping paradigm.
Volume processing presents a whole new set of challenges and seasoned processors appreciate the little things. It is about the little things. Large contents companies have learned how little things, the small steps, add up to big efficiencies! You will want sophisticated software that helps you manage hundreds of claims, quickly and efficiently, reduce administrative burdens, and allow for exponential growth.  There is a reason why 90% of our clients are the largest contents processes in Canada, USA, & Australia.
"What does the software provide to help deliver phenomenal customer service at every touch point?"
Tripling your business volume sounds amazing.  Handling that volume builds confidence and strengthens  your organization.  But if you can't keep the insured happy; if you can not deliver a rich customer experience; then you can not retain any of the new business you have generated.
The final major question to ask is "What does the software or technology infrastructure have that addresses the customer experience?  Think of this: You have 50 claims a month of all sizes; each claim is live for about 5 months (where live = the customer may call for something multiple times); this gives you 250 claims where an insured may want something – likely a single item – returned sooner:  How do you consistently deliver on each request?  The art of customer service is a simple concept: the ability to treat each customer as if they are your only customer.   This last question separates iCAT from the competition. Innovative technology that dramatically improves efficiencies, gives the carrier more data and information while creating a new customer experience.
Thursday 12th of November 2015
iCat Solutions Inc., a leading provider of inventory, tracking and valuation solutions for the property restoration industry, has announced the release of a national contents restoration pricing database for the United States, United Kingdom, Canada and Australia.
The new pricing index establishes cleaning and restoration fees for restorable property contents by region and postal code. For over 20 years, industry pricing data has originated from a single source, with little to no change in the pricing methodologies. Cleaning technology advancements and applications such as aqueous wash technologies, environmental drying & deodorization chambers and modern volume processing paradigms have shifted the industry, heightening both the calibre and speed of the restoration process. iCat's pricing model reflects this modern restoration culture.
"This new pricing database is extremely contractor-friendly and very easy to use," said Riaz Walji, managing director of iCat Solutions. "We have a logical approach to pricing that reflects the latest standard in restoration methods."
To date, industry pricing was set and governed by a single source provider. With the release of iCat's Modern Contents Restoration Price Index, contents processors and carriers will no longer be denied, mandated or required to pay for access to pricing or statistical data.
Customers who further leverage iCat's Modern Contents Solutions will enjoy full pricing integration with their iCat Autocatalog product. "The future of estimating is here: an estimate generated from pictures—it's very cool," said Walji
"Rapid adoption by several National Insurance carriers demonstrates a yearning in the market for a modern approach to contents restoration pricing," said Russ Jacobs, Director of Sales. "Adjusters are raving about it, calling it 'pricing that tells a story.'"
About iCat Solutions
iCat Solutions offers cloud-based contents management technology that is transforming the contents restoration industry. Its innovative technology development, training and implementation, customer experience focus and modern contents processing are all changing the paradigm for how the industry looks at inventory and claims management.
To learn more about iCat Solutions, visit http://www.icatcontents.com
Tuesday 20th of October 2015
We never stop improving.  For you.
New Branding
New Website
New Innovations & Upgrades
Training Simplified
New Branding / Website
iCat has rebranded and created a new website to help Supercharge your Contents Marketing efforts:    This site was built with the sole purpose of helping to promote your iCat Powered Modern Contents Services to Carriers, Adjusters, and Insureds.  It's now easy to articulate the simple fact:  iCat Powered Contractors truly are the Best of the Best.
Have your Marketing Team Visit  https://www.icatcontents.com
Innovations & Upgrades
Panoramic Room Image Capture.
With the new  Panorama feature, our users can now take a 1 to 360 degree panoramic images of any room during a Pack-out.  The Panoramic Image is then available on every smart device, assisting techs during the Move Back, where they can play, pause and zoom in on a kitchen cabinet or a living room bookshelf. Imagine easily being able to efficiently put every dish, doll and decorative item, every couch, credenza and china cabinet, every toaster, tea set and television back where it was before the loss! Or don't imagine it, schedule a webinar today and let us give you a sneak preview of what you can also have when you sign up, or switch, to iCat Contents Management Software.
Another "first-to-the-contents-industry"  innovation by iCat.  We never stop improving, crafting, and building when it comes to our industry leading contents solutions.   If you read our October bulletin (link here to Oct. bulletin) you'd have seen we've now introduced 29 new features and upgrades since the convention!
Training Simplified
Onboarding to a contents technology infrastructure has never been easier.  iCat has implemented an on-demand Virtual Assistant technology which will walk a user – step by step – through all of the incredible features the software has to offer.
We call it "Show Me How":   Users can select from Onboarding Tasks, which enables them to confidently get started and "hit the ground running.", while also being able to search or choose from multiple topics to focus on the area(s) they need the most.
Call for a demonstration and let us Show You How this newest feature works!
Schedule a webinar today.
Contact Info
Russ Jacobs
888-494-4228
support@icatsoftware.com
www.icatcontents.com
Thursday 19th of June 2014
Please direct inquiries to:
Riaz Walji, 888-494-4228
riaz@icatsoftware.com
FOR IMMEDIATE RELEASE: May 2014
FRSTeam Continues to Add Value Through Partnership Renewal with iCAT Solutions
Technology secures market position in fabric restoration services
MARKHAM, Ontario — iCAT Solutions has announced that it will continue to deliver value-added technology solutions to the products and services of FRSTeam, a leading fabric restoration company.
Despite the many new inventory and estimating solutions now in the market place, FRSTeam has renewed its exclusive technology contract with iCAT Solutions. Through the partnership renewal, FRSTeam will continue to exclusively leverage iCAT Solutions' unique pack-out and cloud reporting technologies which power their now award winning FRSTrack garment restoraiton solution. This will allow FRSTeam to continue to serve as innovator in the soft contents restoration industry.
FRSTeam provides fabric restoration products and services to individuals and families across North America, restoring clothing, window coverings and household fabric items damaged by smoke, fire, water, mold and other issues. The company works with insurance carriers, homeowners and contractors to restore soft contents, and is the largest most progressive franchise in the industry.
About iCAT Solutions:
Powered by Modern Contents Processing Principles, iCAT Solutions offers cataloging and tracking software which provides their clients with real-time content tracking, operational transparency and efficiency. For more information on the company and its solutions, visit http://www.icatcontents.com.
Thursday 19th of June 2014
FOR IMMEDIATE RELEASE: March 13, 2014
iCAT Solutions Forms Partnership with Rainbow International
Global restoration company aims to transform the industry by using iCAT's software
TORONTO — iCAT Solutions has formed a partnership with Rainbow International, a global home and commercial restoration company with more than 400 locations.
Through the partnership, iCAT Solutions will become the approved software provider for Rainbow International and its franchisees, which are located around the world. By using iCAT's software, the restoration company aims to fundamentally lead change in the industry by providing claims transparency for insurers, 24/7 claims access for homeowners and additional features to help streamline the process of mitigating non-restorable damaged items.
"We are very pleased to form this partnership with Rainbow International, one of the industry's most respected brands in restoration services," said Mitchell Rogers, Executive Vice President of Sales for iCAT Solutions. "By using iCAT's software, this company and its franchisees will have access to the perfect combination of technology and customer service, giving them the ability to significantly enhance how they serve their own clients. This is exciting news for both of our industry-transforming organizations."
iCAT has been recognized throughout the industry for its cloud-based contents software and patent-pending Fast Packout mobile technology. The recent release of iCAT's image recognition solution further increases the speed of the contents cataloging and inventory process, in many cases reducing the amount of time spent on the packout process by 50 percent. The company's technologies are opening the doors for additional revenue generation possibilities for contractors.
"Our revolutionary software delivers a number of key benefits to restoration service providers, giving them the ability to keep insurance adjusters and homeowners updated on progress in real time," said Rogers. "Never before has there been a solution in the industry that has offered this degree of transparency and efficiency."
Rainbow International, established in 1981, provides a wide range of restoration services, including water, fire and mold damage, mold removal, carpet cleaning and more. The company, fully certified by the Institute of Inspection, Cleaning and Restoration, has become an industry leader in restoration services over the years.
Powered by Modern Contents processing principles, iCAT Solutions offers cloud-based contents technology infrastructure to its customers, providing real-time content tracking, operational transparency and a heightened claims experience. For more information on the company and its solutions, visit http://www.icatsoftware.com.
Please direct inquiries to:
Mitchell Rogers, 888-494-4228
Tuesday 19th of November 2013
As part of our efforts to change the industry and pioneer the Modern Contents® movement, iCat is making  the packout process much more efficient than ever before.
Contractors now complete packouts in half the time, with total inventory control, thanks to mobile and cloud technologies.
What's even more incredible is the fact that iCat can actually help contents restoration contractors generate additional revenue for their businesses. Yes, you read that right. iCat's Fast LKQ is enabling our users to provide like kind and quality (LKQ) valuation of non-salvageable inventory for your clients.
Imagine the following scenario:
The Setting: A large loss residential fire.
The Ask: Packout for cleaning and restoration, while leaving all non-salvageable items onsite to be handled by another firm at a later date or the adjuster and homeowner spend hours at the loss site listing the items.
Your Pitch: "While we're onsite, we can provide non-salvageable listing and LKQ, too!  We will send you a schedule of loss complete with homeowner participation.  We use the industry's fastest non-salvage solution. "
How are you able to make such a promise? It's all thanks to iCat's industry-transforming technology.  The process for contractors usually works like this:
1. You use iCat's Fast CATALOG technology to reduce your time on the jobsite by up to 50 percent.
The math here is easy — you can now packout twice the amount of contents than you could before. Thus, you can potentially take in twice as much in cleaning and restoration revenue. We call this "2x-ing" your contents business.
iCat's Fast CATALOG uses our image recognition technology, allowing you to simply take a picture of the chair, desk, TV, dishware or the hundreds of other items you might need to catalog onsite. You can use this technology for both salvageable and non-salvageable items, as iCat provides a perfect description — right down to the make, model and (in some cases) color. Talk about efficiency!
2. You push a button for immediate pricing.
iCat's Intelligent Web Crawler Technology searches the far corners of the Internet to retrieve a live LKQ replacement price for each item, and provides a hyper-link confirming item and replacement price.
All of this data is presented clearly in an executable Microsoft Excel file, complete with all supporting LKQ links and original item images. As a contractor, you simply charge per line item and the time you spend onsite to inventory. We can say from experience that this truly knocks the socks off insurance adjusters because it gives them the data and tools to easily and quickly resolve the hardest part of the claim! And it all gets done in about 48 hours. For this reason alone,  adjusters will turn to you again and again for the added value service you provide and the headaches you prevent.
3. You get more business from referrals.
Insurance adjusters talk to each other, and when one adjuster benefits from the level of service you're able to provide, it won't be long before other potential clients hear about you. This is true marketing through your operations. As you provide added value, time saving convenience and elevated customer service, more adjusters will turn to you.
4. You make insured individuals and families happy.
Because of you, insureds get paid more quickly and they receive more responsive service. They feel their voices are heard, their claims are validated and they conveniently participate and are part of the claims process. The result is higher overall claims satisfaction. When insureds are happy, everyone in the process wins. With these advantages, it's going to be tough for your competitors to match what you are able to do.
With iCat, you get the only software in the entire contents restoration industry that gives you a pure trifecta of; instant additional revenue, powerful marketing tools and the ability to create a new customer experience. Don't just go by what we say, ask any contractor powered by iCat.  You will find that most iCat powered contractors are either the largest and/or the leaders of their markets. Come and join them.
It works, it works well, it works for you.
Sign Up Now.  We promise, it's worth it.
Wednesday 6th of November 2013
When we speak with contents restoration contractors about iCAT and the Fast Packout app, they always seemed impressed with the wide range of solutions we offer to make their jobs easier. However, these professionals increasingly ask about how they can leverage our solutions on the job site. Specifically, they want to know if they can use their iPad or tablet device to complete the packout process.
The short answer is yes. But we must then answer that question with another question: Why on earth would you want to?
That's right — iCAT does you one better. While there are other packout software solutions out there that allow you to use iPads or other tablets, iCAT is the only one that gives you the ability to use your iPhone or iPod, which is much more convenient when digging through the chaos of a typical job site.
Sure, iPads and tablets are cool, but they're not all that well suited to the packout process. On the job site, you and your team often have to dig around piles of stuff, get into tight spaces and work in dark areas. iPads can be bulky and difficult to handle in these environments, and so smaller devices are much more effective.
If you don't believe us, here is a quick, three-step challenge we invite you to take that helps illustrate our point:
1. Pick up your iPad with two hands and walk around your facility for a half-hour continuously. Now do the same with your iPhone or iPod. Which is easier to carry around?
2. Drain your iPad's battery and then plug it in. How many hours does it take to become completely recharged? Now do the same with your smart phone. These smaller devices take much less time to recharge, and their battery life is usually longer because their screens are smaller — so they use less energy to begin with.
3. Take your iPad into a dark area that has little to no light and try to take a picture. How does it turn out? Now, try scanning a barcode. How did that work out for you? Do the same with an iPod 5th generation or iPhone 4s or 5, and you'll see that the flash on these devices makes this task much more possible.
iCAT is truly revolutionizing the contents restoration industry thanks to its innovations when it comes to fully leveraging mobile and cloud technologies. In addition to giving you the ability to use your iPhone or iPod to catalog contents, you also don't need to rely on servers to keep inventory. As soon as you log an item, it immediately gets updated onto the cloud.
After taking this challenge, think again about the device you use to inventory and catalog contents. Is an iPad really at the cutting edge, or could you do better for you and your team?
Thursday 26th of September 2013
These days, everyone wants more for less. Whether it's fitting more versatility into a smaller package or simplifying a solution while adding more options, we tend to live and work in a world in which the easier something is to use, the more people will use it.
In the contents restoration industry, this idea of offering more for less hasn't quite caught up to the rest of the world—contractors are still lugging around bulky laptops and inventorying with complicated software interfaces. But when it comes to iCAT's Fast Packout app, there proves to be a gateway into the world of smaller, faster and better solutions.
Fast Packout hammers home the idea of more for less, specifically more features with less time spent trying to figure them out and use them correctly. In using the platform, contractors experience an easy-to-manage software system that's tailored to fit their needs, no matter what the scope may be. It doesn't matter if contractor needs to make use of each and every option available to them or only a select few.
Scalability means that small businesses that only require a limited scope of options can take full advantage of the solution, while larger organizations can expand their functionality by pushing the app even further.
As if it wasn't easy enough to deal with a system that lets users take total control over their inventory, Fast Packout is also pushing the industry forward, particularly in terms of the technology that powers it. Gone are the days of lugging around a laptop or trying to maneuver a camera into tight spaces—now, iCAT is putting the power into the hands of the contractors by making the Fast Packout app available on something as small and manageable as an iPhone or iPod! With just a few taps of the screen and a quick photo, the app gives contractors a way to create a comprehensive item profile, leveraging the safety and security of the cloud.
When you get down to the brass tacks, giving contractors something that's versatile, easy to use and exceptionally compatible means giving them an easier way to do their job. Here again, we see more for less—a more refined snapshot of a jobsite with less time spent cataloging and inventorying.
It's time for the contents restoration industry to start offering more for less. iCAT is leading the charge and changing the way contractors do their jobs. If you're not using iCAT and Fast Packout in your contents restoration processes, it's time to start.
Partners
The largest and most successful contents companies in the industry are powered by iCAT... and over 80% switch from competing solutions! If you are not already convinced, here are 10 more reasons why you too should be powered by iCAT.