Hardware Considerations

Choosing a Barcode Printer
A barcode printer is an integral piece of hardware to help organize locations, equipment, employees, and most importantly to catalog contents during the packout process, facilitating inventory control all the way through to packback. For Pack-out Labels, any Laser Printer using Avery 8160 Labels or any Continuous Roll Label Printer will work. If a laser printer is used for Pack-Out Labels, a brother wireless label printer for Pack-Back Labels is highly recommended, as the need to print on demand labels would be essential during production.
If you are looking for the original production barcode printer used by iCAT clients, it is the Wasp WPL-305. This label printer is supported by iCAT with settings, drivers, and instructions. Please Note: This printer is great for both pack-out and pack-back labels, however it can not be used with mobile devices.
Labels that are at least 2.25″ by 1.25″ at a minimum are required for any continuous roll label printer.
Ensure you have the right printer ink type for the label you purchase.

Tablets and PC's
iCAT is a cloud product which means it can be accessed on mobile devices (iPad, Galaxy Tablet, Surface) or any computer with internet access.  Laptops are recommended.

Packout Devices
The Fast Packout app supports only the iPad 3 or newer, iPhone 4S or newer, and the latest generation iPod Touch 5th Generation 32gb w/flash. Older versions are not supported including the 1st and 2nd generation iPad mini. The iPad has stunning image capture capabilities, excellent built in scanner, works with optional Bluetooth scanner (recommended below), and can run also run the entire cloud based software from its web browser.  Device must run on the latest iOS provided by Apple.
Handheld Barcode Scanners

Internal production and tracking is enhanced through the utilization of handheld barcode scanners (a function that can be duplicated using tablets or smart phones.) Leveraging scanning technology can improve efficiency and productivity in a Modern Contents Processing environment. For businesses interested in empowering their operation with scanning technology, iCAT recommends the following models:
Symbol wired barcode scanner model #LS2208. Ensure that you purchase the model version that comes with a USB connection.
Wasp wireless barcode scanner model #WWS-800. Ensure that you purchase the model version that comes with a USB connection.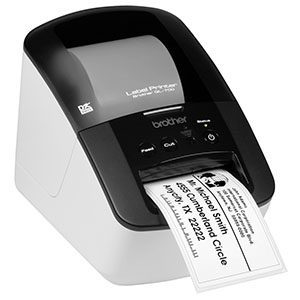 Brother Wifi Label Printer Which Works Specifically With The iCAT Mobile Production App
Note: This printer is intended to work with the Fast Packout Production App Only and not intended to be your primary label printer.
Recommended Printer ($99.99 – $159.99): Brother QL720NW
Recommended Labels ($17.99 to $29.99?): DK2205 2.4 in x 100 ft (62 mm x 30.4 m) Black/White Continuous Length Paper Tape.